Marketing and Robotic Process Automation
Marketer – how many functions and tasks a specialist in this field combines. On the shoulders of marketers lies not only the development of strategy, analysis and creativity, but also a lot of routine. A real marketer knows that routine takes up to 70% of working time, and this is: monitoring prices, correspondence with clients, reminders, monitoring the performance of contractors, promoting social networks, controlling photo processing and much more.
Content:
***
Routine work takes almost the whole day. So when to be creative, analyze competitors and reveal your potential? Is it possible to increase your working day to 14 hours? Are there other ways? Other ways will be found if you delegate the routine to robots – software assistants that can take over all repetitive tasks. The robot works around the clock, does not get sick, does not argue, does not need bonuses.
Did you know that using Robotic Process Automation (RPA) software robots in marketing can increase productivity by up to 40% and save time by up to 30%?
Robotic Process Automation Technologies for Marketing
Let's dive into the terminology and understand what RPA-based software robots are and how they differ from regular bots and chatbots. Usually, business users and marketers associate bot development with big company chatbots and social media bots. But in fact, there is a significant difference between these three electronic assistants.
A bot is a single-task program that performs a precisely formulated assignment: mailing, parsing, cataloging, and commenting on social networks. A bot can perform simple tasks that require automating one function. Such automation usually requires knowledge of the software code and the attention of the person who maintains the bot. Any changes are corrected by a programmer of at least Middle level.
A chatbot is a dialog program built on a template script: typical questions-answers, standard actions-reactions. The functionality of chatbots covers only one direction of the marketer's work – pushing the user through the sales funnel, and removes a minimal part of the routine tasks from the specialist. Online services are used for development, and a junior marketer can develop a simple chatbot.
Software robots built using Robotic Process Automation technology are significantly different from their electronic counterparts, because they combine many functions.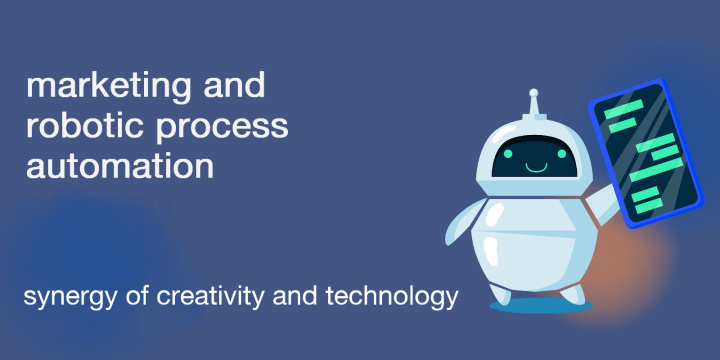 A robot is a multifunctional bot and chatbot, at least 2 in 1, which performs several tasks in parallel in an offline mode. For example, the software robot for LinkedIn, created by Ukrainian developers at the Autorpad company, does: sending invitations, autoposting, mass and trigger sending messages, collecting data, transferring data to CRM, scrolling feeds, likes, comments, adding to groups and much more.
To create software robots, special platforms are used that do not require in-depth knowledge of programming, so a simple robot can be created by a Senior level marketer or a Junior level programmer. The robot can work without human intervention, and when errors occur, the robot can recognize and skip them, continue the main work without interrupting the cycle.
Interaction With a Robot and Tasks of Robotic Systems
The scheme of interaction between a marketer and a robot is simple:
A person sets a task for a robot, thereby freeing up his time for creativity, analysis and professional communication. Any task can be automated if instructions can be written for it.
The robot does its job: without errors, at high speed and ready to scale the volume of work at any time. At the same time, the robot interacts with the program interface like a person.
The marketing task is 100% completed: there are new ideas, all work is completed on time. The minimum time of the marketer is spent, the necessary product is sold to the right client at the time when he is ready to pay for it.
The main tasks of digital marketing robotic systems:
large-scale collection of any data about potential customers from various freely available sources (continuous monitoring of social networks and Internet spaces);
objective information regarding the analysis of the company's activities, the effectiveness of advertising campaigns;
collecting, structuring and sending reports to responsible employees from any programs or utilities;
freeing most of the working day of employees from routine and increasing time for solving strategic and creative tasks;
increase sales and endlessly expand the base of potential customers thanks to 24/7 automated lead generation from organic traffic;
mass mailings of personal messages and comments in social networks without a ban;
increasing the company's profitability by optimizing work processes and increasing the effectiveness of marketing campaigns.
Interestingly, up to 63% of companies that use robotic process automation have outperformed their competitors in terms of sales and ROI. The synergy of creativity and technology is a reality.
Happy Marketers or 7 Main Benefits of Robotic Process Automation
The jewel-like accuracy of a marketer is the key to the effectiveness of the team and the enterprise as a whole. Successful cases prove that the use of software robots to automate routine processes is beneficial for business owners and marketers. This tool helps realize the potential of the company without increasing the costs of additional employees and saving valuable time.
Connect applications without developers in 5 minutes!
Time for creativity. Instead of a boring routine, which cannot be monetized with this amount of time used – the production of new ideas. A person, unlike a robot, thinks out of the box, can implement many creative tasks, work in an unusual way and apply his talents, and this is why he is valuable. While the robot performs typical tasks according to the prescribed algorithm, the person has time and energy for creativity.
Workflow optimization. Integration of CRM, marketing and SMM gives a comprehensive and objective picture with clear planning, analysis, control. Typical, repetitive, patterned processes assigned to work; the interaction of units has been strengthened.
Saving time. Software works of the Ukrainian company Autorpad for Facebook, LinkedIn, Instagram, Behance, other popular social networks and video hosting without human participation lead multipolar operational communication of the brand: followers, hashtags, comments, likes, messengers. Meanwhile, the specialist deals with direct tasks: market analysis, innovation, planning of advertising campaigns.
Multichannel targeting. Comprehensive information about a potential client accelerates decision-making: a personal tweet, a personal message on LinkedIn, a comment on Instagram stories, automation of Facebook and Google advertising cabinets really help to sell. But there is a small clarification – it should be done en masse. Until robots existed, many SMM areas were unprofitable, and now RPA robots are completely changing the financial picture of the channel.
Effective lead capture. A response to a client within a minute from the moment of application is 60% more effective than a response within a day. While marketers and sales are sleeping, having lunch, or attending a webinar, the software robot interacts with the customer 24/7. This once again increases sales and increases customer loyalty, regardless of the time of contact.
Cost minimization. The payback of automation tools created in classic programming languages takes several months and depends directly on the scale and nature of the company's activities. Innovative complex robotic automation of processes pays off in a few weeks on average, from the first minutes of implementation saves budget items for office maintenance, salaries, advertising.
Saving. One of the cost savings is that a software robot does not require a salary, unlike another employee. And we can safely say that the robot is a full-fledged candidate for replacing candidates for the position of content manager or junior marketer. Also, the development of robots is much faster than classic automation, so there are savings on the wages of developers.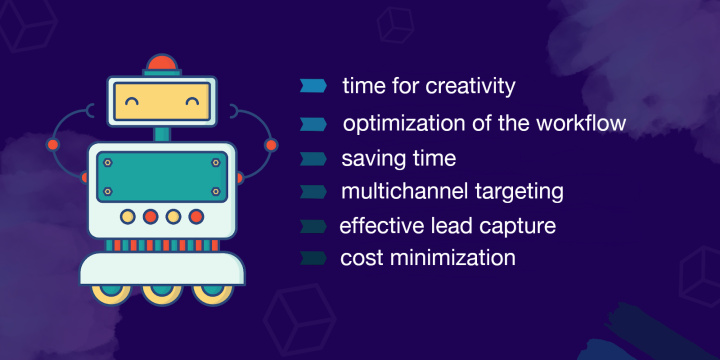 Interesting: Robotic automation of processes and development reduces advertising costs in social networks by 50%, increases B2C repeat sales by 20%.
Let's summarize
World marketing legends are already using Robotic Process Automation. The most popular directions: electronic communication, targeting, personalization of dynamic content not only in advertising, but also in mailings. Creating new communication channels, increasing channel conversions, getting rid of routine tasks, performing tasks on which you would not have spent your time before – these are all advantages of the synergy of creativity and technology.
With the help of software robots, you can create your own, individual tasks and processes. So, as you remember, developing your own robot is not much more difficult than developing a classic chatbot. The absence of the need to invite a programmer for development speeds up the process of implementing marketing plans, ideas, and tests, thereby increasing the speed of earning profit from new channels and processes in your company's marketing.
A greater number of marketers of Western companies are already handing over repetitive processes to robots, and are engaged in creativity themselves. They have time for this because they keep introducing and using new technologies! Yesterday we all started using Google Analytics, and today we start delegating marketing tasks with Asana to software robots. Become a marketing leader together with RPA technologies. Invest in the future of digital marketing!
***
Time is the most valuable resource in today's business realities. By eliminating the routine from work processes, you will get more opportunities to implement the most daring plans and ideas. Choose – you can continue to waste time, money and nerves on inefficient solutions, or you can use ApiX-Drive, automating work processes and achieving results with minimal investment of money, effort and human resources.