Instead Of Zapier: Analogues Of The Popular Platform For Business automation
Looking for an online connector that will create integrations and perform work tasks for you? Take a look at these options. Perhaps one of them will suit you better than Zapier.
***
How Automation Tools Work
To begin with, let's define what exactly an online connector is. This is a platform with which you can integrate different services and set up their automatic interaction without the help of programmers.
The list of supported systems for each connector is individual, but usually it includes CRM, social networks, CMS, analytics systems, spreadsheets, quiz designers, marketplaces, mail and SMS mailing services, instant messengers, chat bots and other business tools.
For example, the integration of Facebook - amoCRM will automatically perform a certain action in CRM based on various events in the social network. Event and action you assign yourself. A typical scenario: as soon as a new lead appears in the Facebook form (event), it is automatically transferred to amoCRM (action).
Key features of Zapier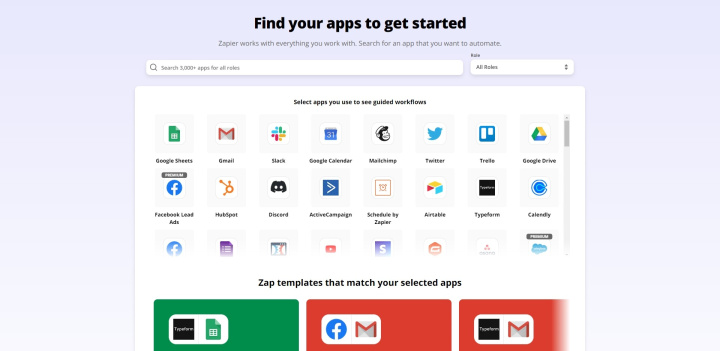 If you have been interested in automation tools, then you are probably familiar with Zapier. This is one of the most popular connectors. Before comparing different platforms, let's look at its features.
Some connectors allow you to connect only two services within one integration. But with Zapier, you can create complex multi-level chains in which many systems interact. For example, if you connect both amoCRM and Google Sheets to Facebook, the connector will transfer the leads collected through the form first to CRM, and then to the spreadsheet.
In addition, Zapier has a built-in data filter. This feature allows you to specify the conditions on the basis of which the integration will react differently to events. For example, you can set up a connection with Facebook in such a way that the connector sends leads to CRM only when they come from residents from certain cities.
In addition, you can use the filter to tune non-linear chains. In such integrations, Zapier performs an action in a particular service based on a given condition. For example, if the price tag in the application is above a certain amount, the connector sends the lead to CRM, if not, to the spreadsheet. This allows you to create more complex automation scenarios.
Another useful feature of Zapier is data formatting. With its help, the connector can convert the transmitted data: change the case of characters, remove spaces, trim words, and so on. As a result, you get the data in the form that you need.
However, Zapier also has its downsides. The biggest of them is the lack of support for local services that are popular in the post-Soviet space. In addition, the connector has rather strict restrictions on the free plan: only 50 actions per month for all integrations and the unavailability of many services from the catalog.
Zapier analogs
If you're missing some of the features in Zapier or the connector seems inconvenient or expensive, check out these alternatives.

ApiX-Drive

Support for local services: yes
Multi-level integrations: yes
Non-linear chains: no
Data filter: yes
Data formatting: yes
Free plan: yes
Technical support: yes
ApiX-Drive is one of the few connectors that supports both English-language services and local systems that are popular among users from Ukraine and Russia. For example, the platform allows you to create integrations with Rozetka, Prom, Fondy, Bitrix24, MySklad, Horoshop, Marquiz, TurboSMS, VKontakte, LPGenerator, Tilda and many other tools popular in our latitudes.
Moreover, unlike Zapier, Ukrainian and Russian versions of the interface are available to ApiX-Drive users. And if necessary, you can contact the bilingual support team, which is ready to respond quickly via chat. In addition, the connector website has a detailed Russian-language help on the integration process.
In addition, the free ApiX-Drive plan has several important advantages. So, the platform provides 100 actions for all integrations and allows you to connect any services from the catalog without restrictions. This is noticeably better than the free Zapier plan.
As for paid tariffs, they are also designed for local users and are not as high as in the case of the American competitor.

Integromat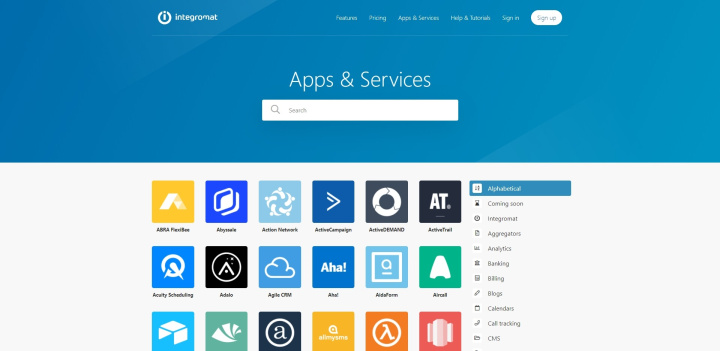 Support for local services: no
Multi-level integrations: yes
Non-linear chains: yes
Data filter: yes
Data formatting: yes
Free plan: yes
Technical support: yes
Integromat stands out because it allows you to create complex non-linear automation scenarios for many services. If you can only add one branch to Zapier, then on this platform you can implement different options for almost every integration step. Which of these actions will work depends on the conditions you set.
Connect applications without developers in 5 minutes!
Use ApiX-Drive to independently integrate different services. 350+ ready integrations are available.
Automate the work of an online store or landing
Empower through integration
Don't spend money on programmers and integrators
Save time by automating routine tasks
Test the work of the service for
free
right now and start saving up to 30% of the time!
Try it
To make it easier for the user to create system integrations, the developers have added a very convenient visual editor. Each service is displayed in it as a round icon, and the links between them are represented by lines. You can simply drag and drop elements to interact with them. As a result, the process of creating integrations resembles working with mental maps.
Despite the user-friendly interface, in order to create truly powerful integrations in Integromat, you will need time to master all the tools and functions of the system. If you don't need too much complexity, it's better to try other platforms.

IFTTT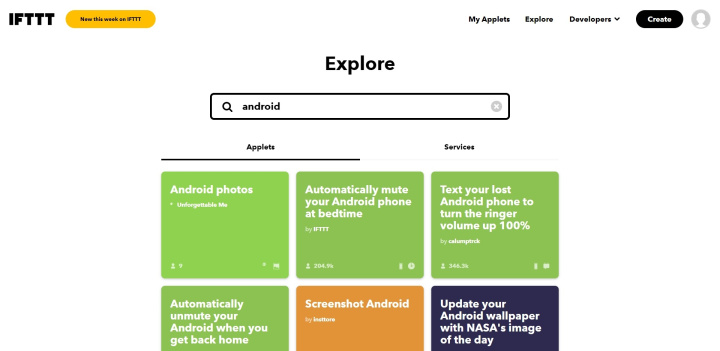 Support for local services: no
Multi-level integrations: yes
Non-linear chains: no
Data filter: yes
Data formatting: yes
Free plan: yes
Technical support: yes
IFTTT focuses not on entrepreneurs, but on the widest possible audience of users. Therefore, the platform does not support many business tools like CRM, marketplaces and analytical systems. In addition, you can set up only the most simple scenarios without branches.
But IFTTT allows you to create integrations with many mobile applications and smart devices that Zapier is simply not compatible with. For example, using IFTTT, you can make your Android smartphone automatically turn off the sound before going to bed or make backup copies of data. However, the platform still works with some popular business services: from Slack to Google Sheets.
Thus, as a tool for automating workflows, IFTTT should be viewed with caution. On the other hand, the platform can be used for everyday tasks as an addition to any business-oriented connector.

Microsoft Power Automate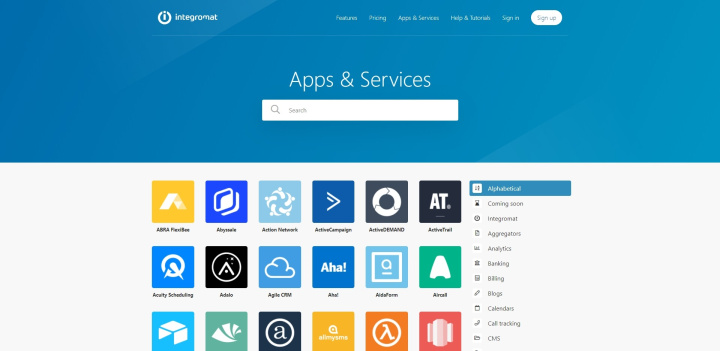 Support for local services: no
Multi-level integrations: yes
Non-linear chains: yes
Data filter: yes
Data formatting: yes
Free plan: yes
Technical support: yes
The Microsoft Power Automate platform, also known as Microsoft Flow, is the best connector for automating processes in Microsoft services. So, the system supports more systems of this developer than competitors. In addition, it uses a common Microsoft account for each service, so the user does not need to connect them separately.
At the same time, Microsoft Power Automate also supports services developed by other companies. Among such tools are social networks, cloud storage, calendars, project managers, CRM, contact lists, email services, and so on. But in general, the list is not as large as we would like.
An interesting feature of the platform is AI Builder. With this feature, you can automate complex processes that other connectors can't: text recognition, translation, form processing, and more. You don't need to program for this. It is enough to connect and configure one of the machine learning models developed by Microsoft.

Automate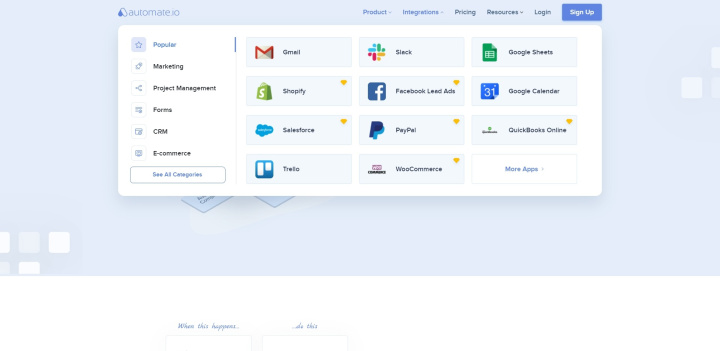 Support for local services: no
Multi-level integrations: yes
Non-linear chains: yes
Data filter: yes
Data formatting: yes
Free plan: yes
Technical support: yes
Automate boasts a simple interface that supports drag and drop and other intuitive tools. Setting up integrations in it is more convenient and faster than in Zapier. And it will not be difficult to understand all the subtleties, even if you have not dealt with connectors.
Another advantage of the platform is the generous free plan. Automate provides 300 actions per month versus 50 that Zapier offers. But at the same time, without a subscription, you can connect no more than two services as part of the integration.
Automate supports various CRMs, forms, store builders, marketing tools and other services. Although the catalog size is still smaller than that of Zapier.
Conclusion: what to choose
As you can see, there is no universal connector. While they generally work in a similar way, each platform has its own characteristics, advantages, and disadvantages. Choose the service that best suits your professional needs and tasks. Good luck with your work!
***
ApiX-Drive can be tried at any time. It is enough to register on the connector website and you will automatically get access to all functions for 14 days. You can immediately create several integrations and test their work. It's fast and easy!